White Chocolate Martini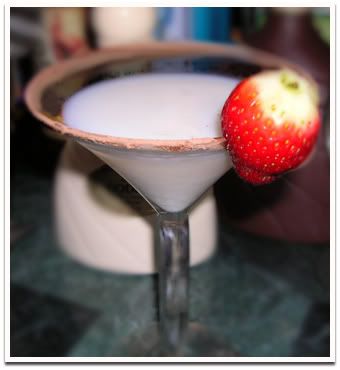 Just when you thought your relationship with chocolate couldn't get more thrilling and exhilarating, the white chocolate martini comes along. White chocolate with just a hint of banana. The moment this alluring gem glides down your throat you'll know your in for a truly special treat.
Maraschino Cherry Juice




Bittersweet Cocoa Powder




1 Strawberry




1 oz. Vodka




¾ oz. Godiva White Chocolate Liqueur




½ oz. White Creme de Cocoa




¼ oz. Creme de Banana
Dip the rim of the cocktail glass ½" into maraschino cherry juice. Shake off excess and gently dip into the cocoa powder. Slowly turn glass till you have a ½" rim of chocolate around the cocktail glass. Place strawberry on rim of the glass.
Combine vodka, white chocolate liqueur, creme de cocoa, and creme de banana in a shaker. Add ice and shake vigorously. Pour into the prepared cocktail glass.